What an incredibly busy day Saturday was!
It started out EARLY. We're talking 5:30am early, as I got up and showered before the "Run Wild" 5k at the local zoo. Start time was 7:30am, but we had to get up early because it was almost an hour's drive out to the zoo.
I get there and after a completely frustrating and not-helpful "conversation" with a surly worker, I find out I have to register in a totally different spot that no one knows about. JOY. I get registered, meet up with Michelle and her daughter, then off we go!
We did pretty well, we took it easy (I am highly out of shape and was wearing my knock off shape ups because it's SUMMER AND I DO NOT LIKE SOCKS). We finished the 5k in under an hour, which I consider to be awesome.
From there, it was straight to a city approximately two hours away with 13 bunnies and Tim, where I met up with a friend, Joni, and we hung out for a while (in between the rabbits leaving here and there). Then it was off to pick up...
Are you ready?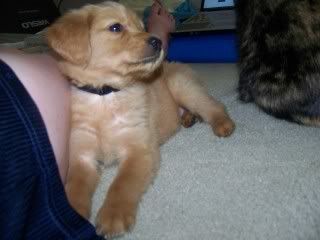 Meet River! Our AKC Golden Retriever puppy. :). We ended up 20 minutes late to our appointment to meet with the last bunny owner, but she was very understanding. Sorry Katie!
We finally arrived home, where my belated birthday gift had arrived- 3lbs of foreign currency! Yes, yet another worthless hobby of mine is collecting coins. This is my first foray in to foreign money- I do it just for the pleasure of seeing what the coins look like.
After that was a fantastic dinner of Joni-zones (recipe forthcoming) and an exciting night full of puppy-neediness and being very tired.
Overall- AWESOME day!