Our local grocery store, Harris Teeter, is doing SUPER DOUBLES this week. It means they will double any coupon up to $1.98- so a $1 coupon doubles to $2, so forth and so on.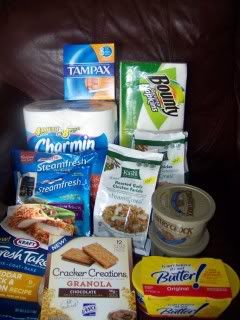 I purchased:
2 Tubs of Country Crock Butter
2 small tubs of I Can't Believe It's Not Butter
1 2pk of Tum's Freshers
1 100ct Bounty Napkins
1 4pk Double roll of Charmin
2 Kashi Steam Fresh Meals
1 box of Lance Cracker Creations
1 package of Kraft Fresh Takes
1 box of 20ct Tampons.
2 bags of Birds Eye Steam veggies.
By the time I used all my coupons, they were doubled and Harris Teeter's "ZVR" (store coupons loaded on to my loyalty card) came off, I only spent $3.40!
Half the coupons used were internet printables, the others were from old coupon inserts- another reason it's important to keep your inserts!
-Kristen